Teaching and Training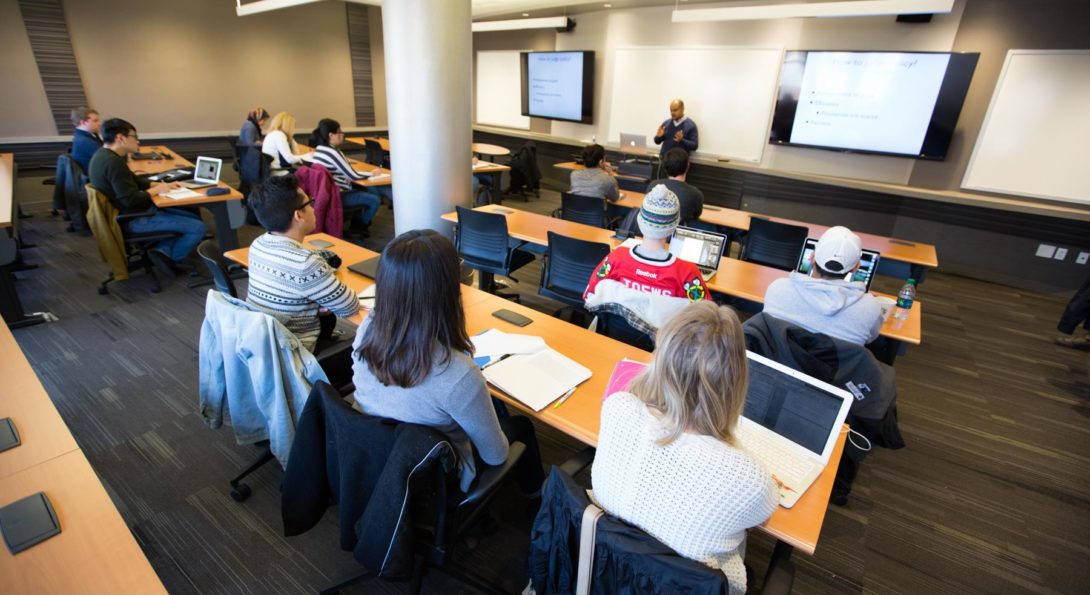 Why Learn Geo-Spatial Analysis and Visualization? Click here to know!
UDVL courses train students from across the UIC campus in the application of geospatial technologies. Students learn to analyze complex and interrelated data sources and create relevant and appealing visual representations that communicate meaningful information for decision-making. UDVL offers a 12-credit graduate certificate in Geospatial Analysis and Visualization (GSAV) for students pursuing in-depth data analysis and design skills, and a series of two undergraduate classes for the GIS Minor. Course offerings, Graduate Certificates, and Minors are offered within the Department of Urban Planning and Policy
Certificate in Geospatial Analysis and Visualization (GSAV)
This certificate program teaches students how to use software to collect and analyze data, in order to better understand the complex relationships and interactions within cities and regions, and how to translate this data into graphic and web-based forms that are easily understandable by professionals, public officials and the public.
All students will develop a working knowledge of Geographic Information Systems (GIS), and each student will be able to concentrate on learning advanced visualization techniques, higher-level GIS, or complexity-based modeling for planning and policy.
The GSAV Campus Certificate can be completed in only 12 credit hours of coursework and is offered to non-degree students already holding a bachelors degree from an accredited university.  Credits may later be applied to a graduate degree, if the student is admitted and enrolled in the Masters of Urban Planning and Policy program within three years of completion of the certificate program.
All GSAV students will take:
UPP 460: Introduction to Geospatial Analysis and Visualization
UPP 461: Geographic Information Systems for Planning
And one of the following courses:
UPP 462: Intermediate Geographic Information Systems for Planning
UPP 463: Complexity-Based Models for Planning and Policy
UPP 464-465: Advanced topics
GIS Minor
The Minor in Geographic Information Systems (GIS) provides students in many disciplines the opportunity to gain further understanding of basic GIS concepts and mapmaking techniques relevant to all disciplines. The minor is open to students from any college or major with sophomore standing who are not on academic probation. UDVL teaches the following:
US 361: Introduction to GIS Techniques I
US 362: Introduction to GIS Techniques II
For more information on the GIS Minor requirements, click on the link below.
New and Future Course Offerings
New course (Spring 2018): UPP 465 Spatial Statistics
Stay tuned for future offerings in webGIS and Urban Analytics.
Professional Training
UDVL staff designs and leads professional workshops and training for professionals throughout the city of Chicago in the areas of design, GIS, modeling and others.
Please contact udvl@uic.edu to discuss the possibility of bringing visualization skills to your organization.
Past Partners:
School of the Art Institute of Chicago
Chicago Teacher's Union
American Planning Association – Chicago Chapter
McCormick Foundation