UIC GIS Day 2017 Showcases Innovative Research and Applications of Data Analysis and Visualization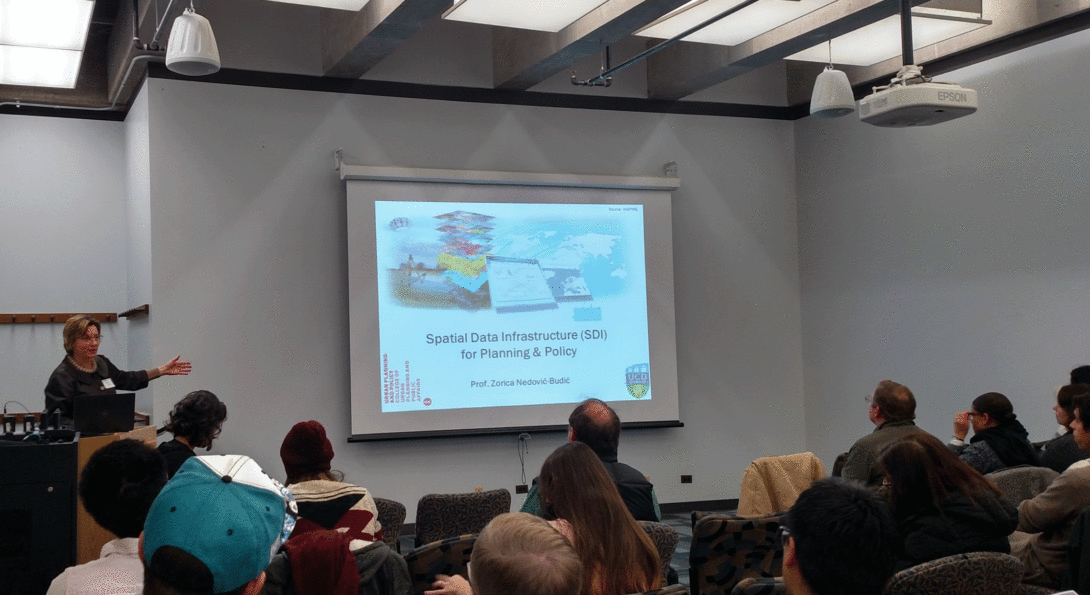 "People needed to be able to see data in a new way," began Andy Johnson. Johnson, an associate professor in the Department of Computer Science and Director of Research in the Electronic Visualization Laboratory, kicked off UIC's GIS Day on November 13, discussing mapping Antarctica to an audience of over 80 students, faculty from UIC and other Chicago universities, and professionals from a variety of governmental, non-governmental, and private organizations.
GIS Day, held nationwide around mid-November, looks to promote the many applications of Geographic Information Systems (GIS) software, and to educate and excite people about mapping and the visualization and analysis of data. UIC's annual event, co-sponsored by the Urban Data Visualization Lab (UDVL) and the UIC Library, seeks to celebrate innovative projects that use these and related visualization and modeling techniques, network with other users and developers, and participate in hands-on applications of the technologies.
Johnson started the day with a unique topic: mapping Antarctica in preparation for mapping the surface of Europa, one of Jupiter's moons, in search for life. Prior to launching the system that will map the moon, researchers needed to ensure that it would work in the ice-covered satellite, and Antarctica provided the perfect place to test it. Johnson's presentation hit on the day's core message: getting diverse groups of people to see data in new ways and detect patterns they wouldn't have otherwise noticed without the visualization technology—both hardware and software—to combine their different perspectives.
Zach Vernon, who does research and analysis at the Chicago Metropolitan Agency for Planning (CMAP), offered a more local presentation. He shared how flood susceptibility in the region could be mapped to help identify flooding hotspots given certain soil, topographic, land cover and building and infrastructure conditions. Knowing where these hotspots are and their likely causes can help guide planning approaches to mitigate flooding damage.
Zorica Nedovic-Budic, Professor and Department Head of Urban Planning and Policy (UPP), shared her work on the evolution of spatial data infrastructure. What was once a complicated process that only experts could master are now friendlier to novice users. As technology becomes a larger part of society, mapping and visualization applications like GIS have become more accessible to all. Middle and high school activities and programs help students learn early on about the available software. Websites like Google Maps serve as a starting point for interested users. Dr. Nedovic-Budic highlighted how readily available applications can support a range of decisions, from apartment hunting efforts, to crowdsourcing emergency services.
In the afternoon, presentations continued on a variety of topics. UIC doctoral student Junjun Zheng discussed the optimal location of electric vehicle park-and-ride stations and programs in Chicago. Eli Knaap, a post-doc in UPP and UDVL, analyzed gentrification and neighborhood change in the Washington, DC area using machine learning to model spatial relationships between race and income. Fjord's Linda Pulik demonstrated how visual storytelling tools help stakeholders understand the roles of diverse actors influencing water resources. Marynia Kolak, University of Chicago, presented her work on food access in Chicago and the impact of the Great Recession, and rounding out the day, Martin Brown and Caitlin Dillon of Delta Institute showed their GIS-based tool to identify where green infrastructure might be needed to address flooding in Gary, Indiana.
The event concluded with two hands-on demonstrations, one on using user-friendly exploratory GIS platforms like SimplyAnalytics, led by UIC Library's Benjamin Aldred, and another one on how to use R, Leaflet and Shiny to create your own mapping applications, led by Kelley Bemis, from the Cook County Department of Public Health.
The event aimed to bring people from various professional, academic, and organizational backgrounds together to share ideas and engage in cross-disciplinary and cross-sectoral discussion around the uses and development of tools and techniques for visualization and spatial analysis. "I … was impressed with the quality of the research and presentations. The content was rich so I'd like to review it all again," said one participant. Both novices and experts commented on how the variety of topics allowed them to learn something new. Moira Zellner, Director of UDVL, hopes that UIC's annual event will foster an ongoing dialog and collaborative efforts to address complex problems through the development of innovative spatial analysis and visualization approaches, and the application of existing ones in new ways.
This year, the event was dedicated to the memory of Al Scorsch, III, the founder and supporter of UDVL, and a champion of visualization technology to advance science and policy. He passed away a couple of weeks before the event, and was greatly missed.
Modified on April 16, 2019